Plant-based cooking isn't difficult, it's just different. Learn our methods and boost your healthy cooking confidence in the Kitchen Mindset Lab.

A plant-based lifestyle sounds like a good idea, but so far it hasn't really stuck.
Could it be because:
You keep telling yourself that you can't cook and that you don't have time?
You want to eat healthier but think you lack the willpower and motivation?
You want to cook with healthier ingredients but it's too hard and too expensive?
You want to serve healthy meals to your family but they're not cooperating?
You don't want to have to plan so far in advance that you don't look forward to your meals?
We believe there's a better way to go plant-based. Ya know, so you can stay there a while, and actually make a lifestyle shift that's a healthy one, and one you're happy with.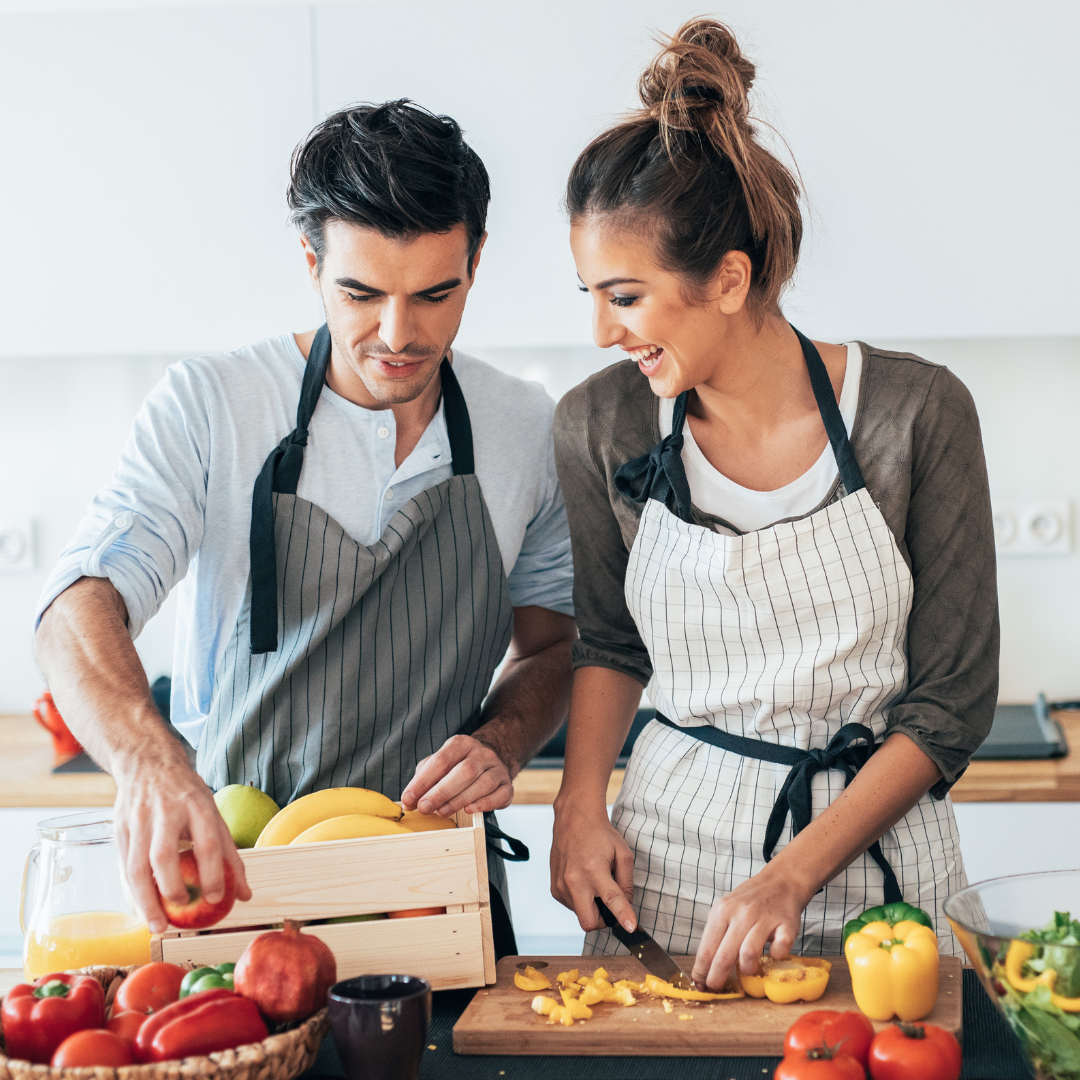 Grow Your Cooking Confidence in the Kitchen Mindset Lab
Save time and money by learning the strategies that will lead to your success in the kitchen
Enjoy cooking healthy meals your family will love
Trade willpower and motivation for solid healthy habits that automatically keep you on track
Become a pro in your own kitchen so you can relax and avoid stress while you make your meals
Go plant-based and stay there. Because it's not only healthier for your body, mind, and soul, it's also more sustainable for the planet and happier for the animals too!

What's Included?


8 LIVE Weekly Group Cooking Classes

Tuesdays from 5:30 - 6:30pm EST.
Zoom Link Available After Purchase.

12 Week Access to On Demand Video Lessons

Cook your way through over 20+ modules of video lessons and practice your skills to boost your confidence!
PLUS Recipes, Printable Meal Guides, and Exclusive Bonus Classes!

Meet Your Friend, Chef Lauren
Have you caught yourself wishing for a support system when you try to build a new healthy habit? Someone you could just get in touch with to get your questions answered, or when you need a confidence boost and a little reassurance? Someone to hold your hand?
We know what it feels like to try and make a healthy change, and what it feels like to fail. That's why we created the Kitchen Mindset Lab. The cooking methods we teach are what we first taught ourselves, over seven years ago. It's what worked for us when we transitioned to a plant-based lifestyle, and we haven't looked back.
We understand what it feels like to be interrogated about your dietary changes, to feel confused when looking at menus, and to be frustrated by wasted ingredients, and recipes that lack flavor.
 ​
That's why we're here - to be your Food Friend and number one fan as you grow your confidence in the kitchen.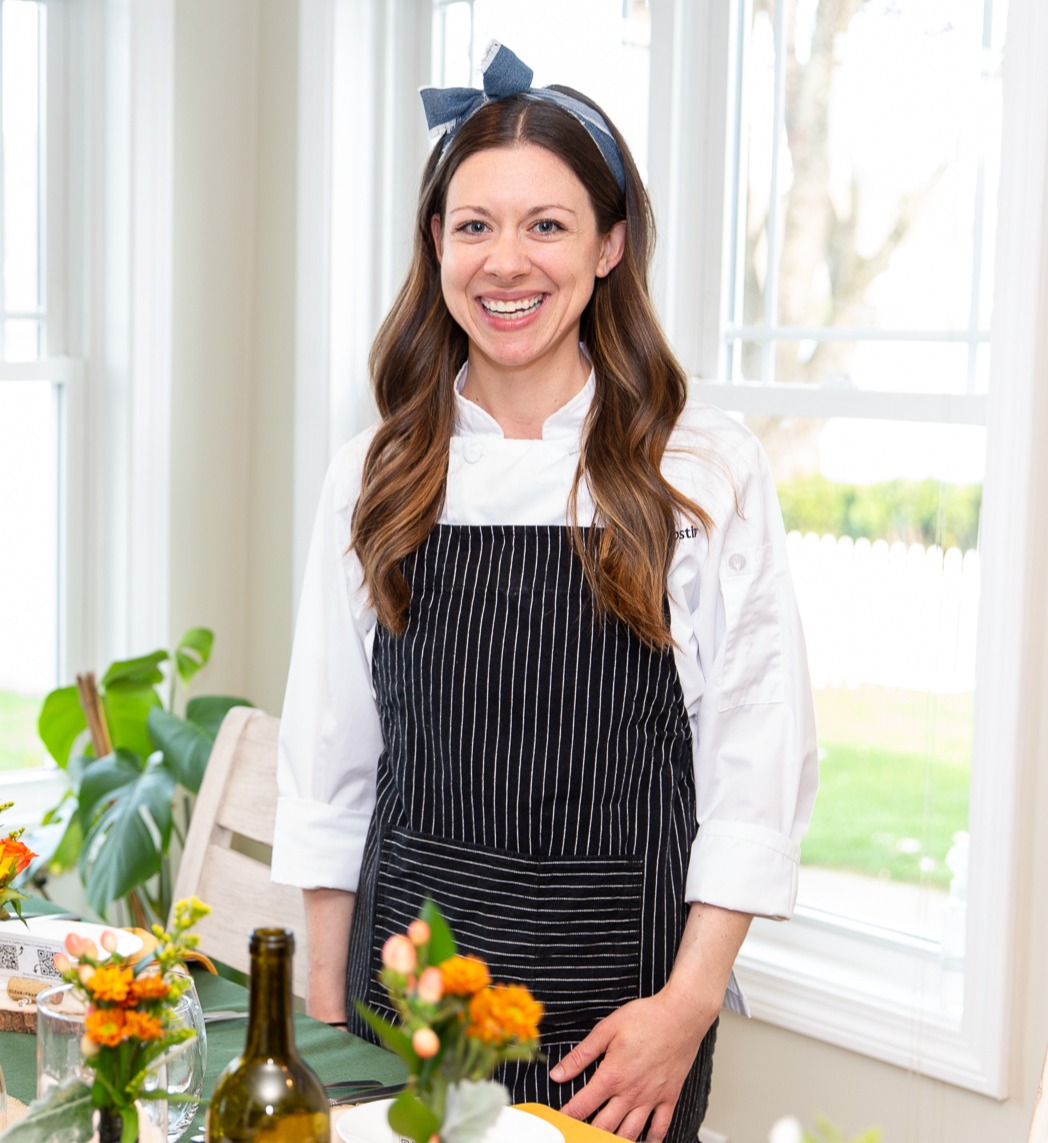 From the Mouths of Confident Students
Wondering if it's worth investing in a healthy habit change? Here's what our students are saying about the Kitchen Mindset Lab: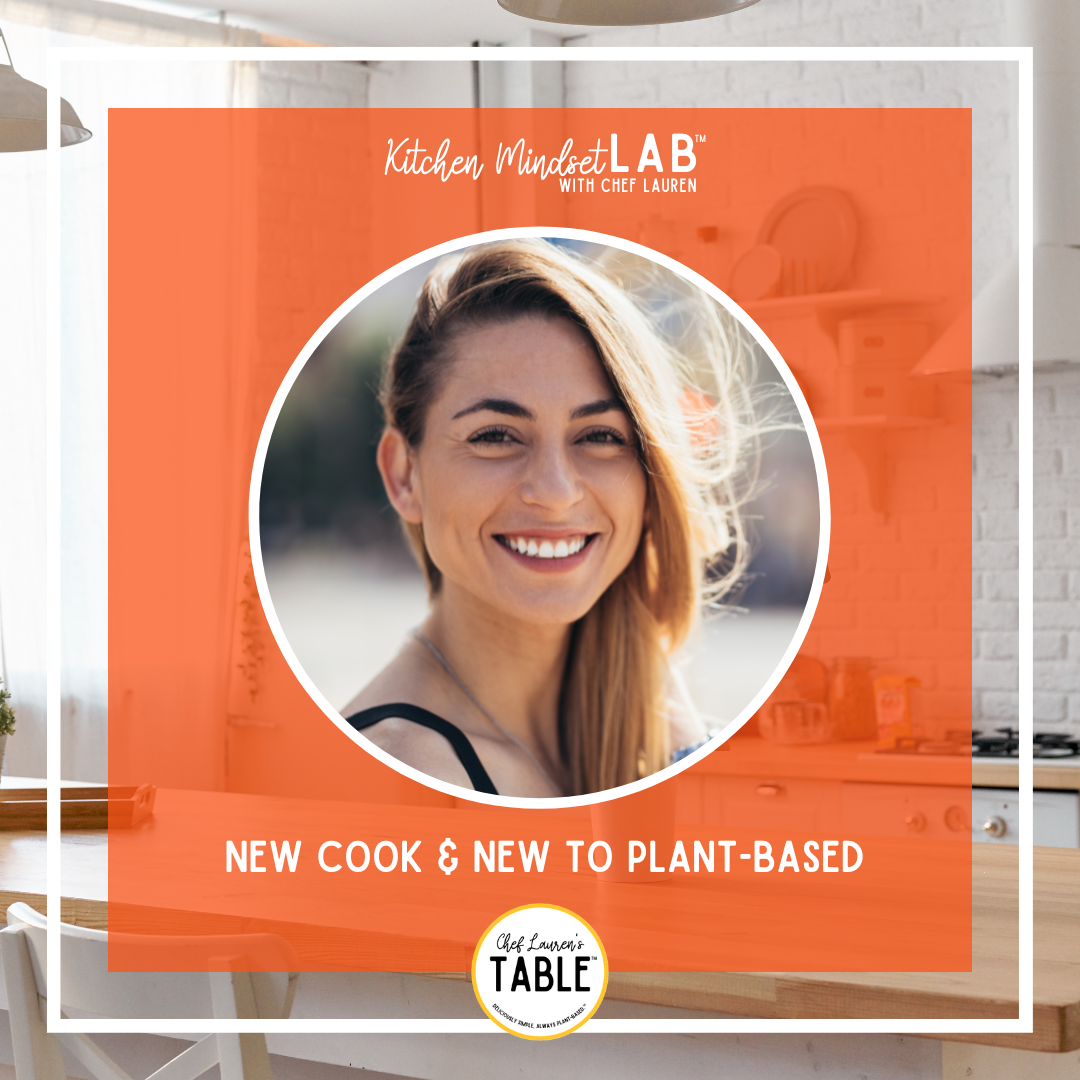 Jessica
When I found this program, I was so lost and confused - and hungry! I knew I wanted to go plant-based, but I didn't know the first thing about cooking anything, let alone making vegetables delicious. The format of the group lessons was super helpful, and I really loved the way that the information was broken down into bite-sized lessons. Absolutely recommend!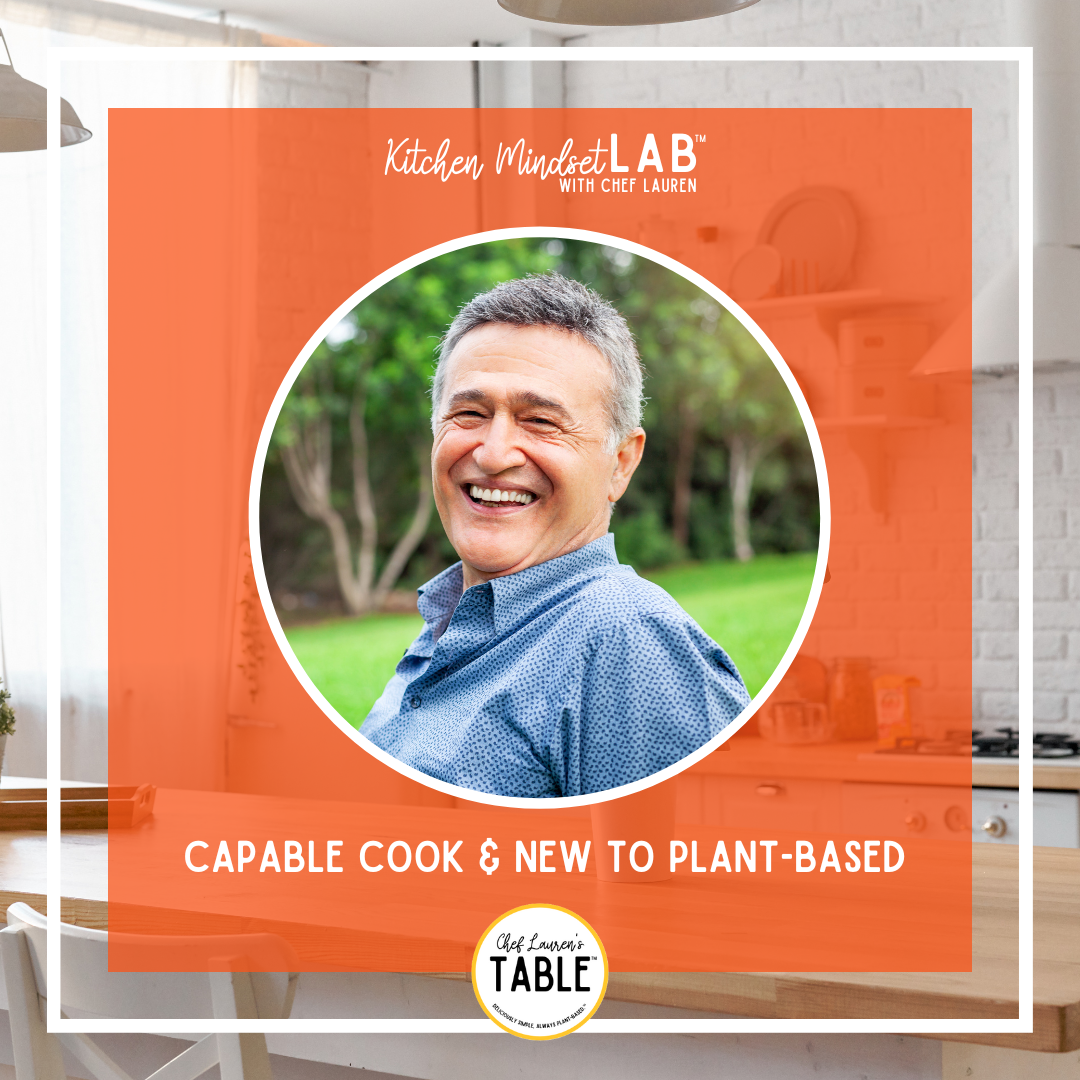 David

Chef Lauren has been instrumental in my shift to a plant-based lifestyle. Her classes teach easy to learn cooking methods and come with great guides I've referred to over and over again. Her courses and coaching helped me make some important mental shifts in how I approach food and meal prep, and it's been life changing for me and my family.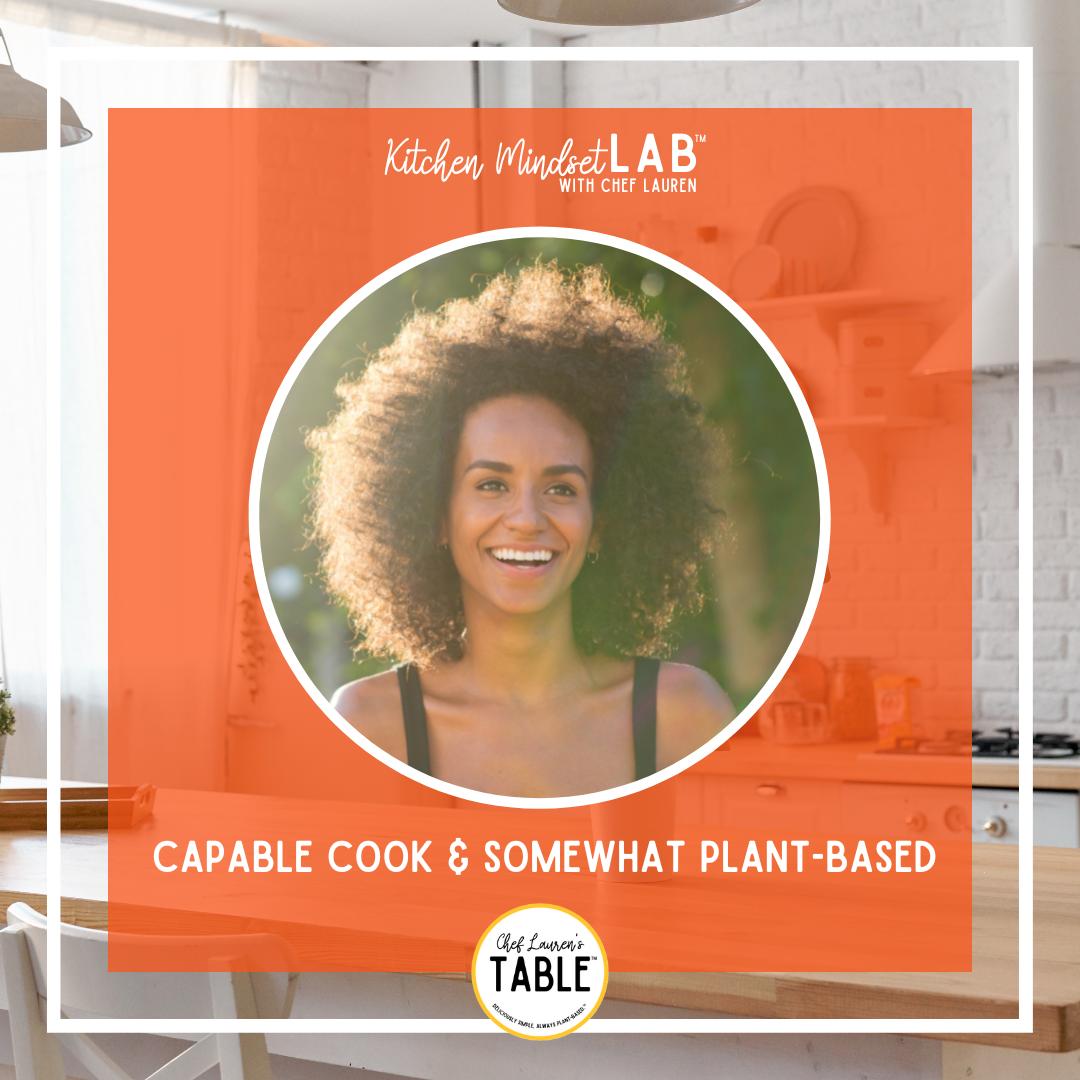 Phoebe
This class changed the way I cook! I lost weight without trying and I love how I feel when eating plant-based after learning these recipe concepts! I was already eating vegetarian, so it was helpful to learn more about plant-based cooking to bring some excitement and flavor back to my cooking!

Sound good so far? Here's the plan: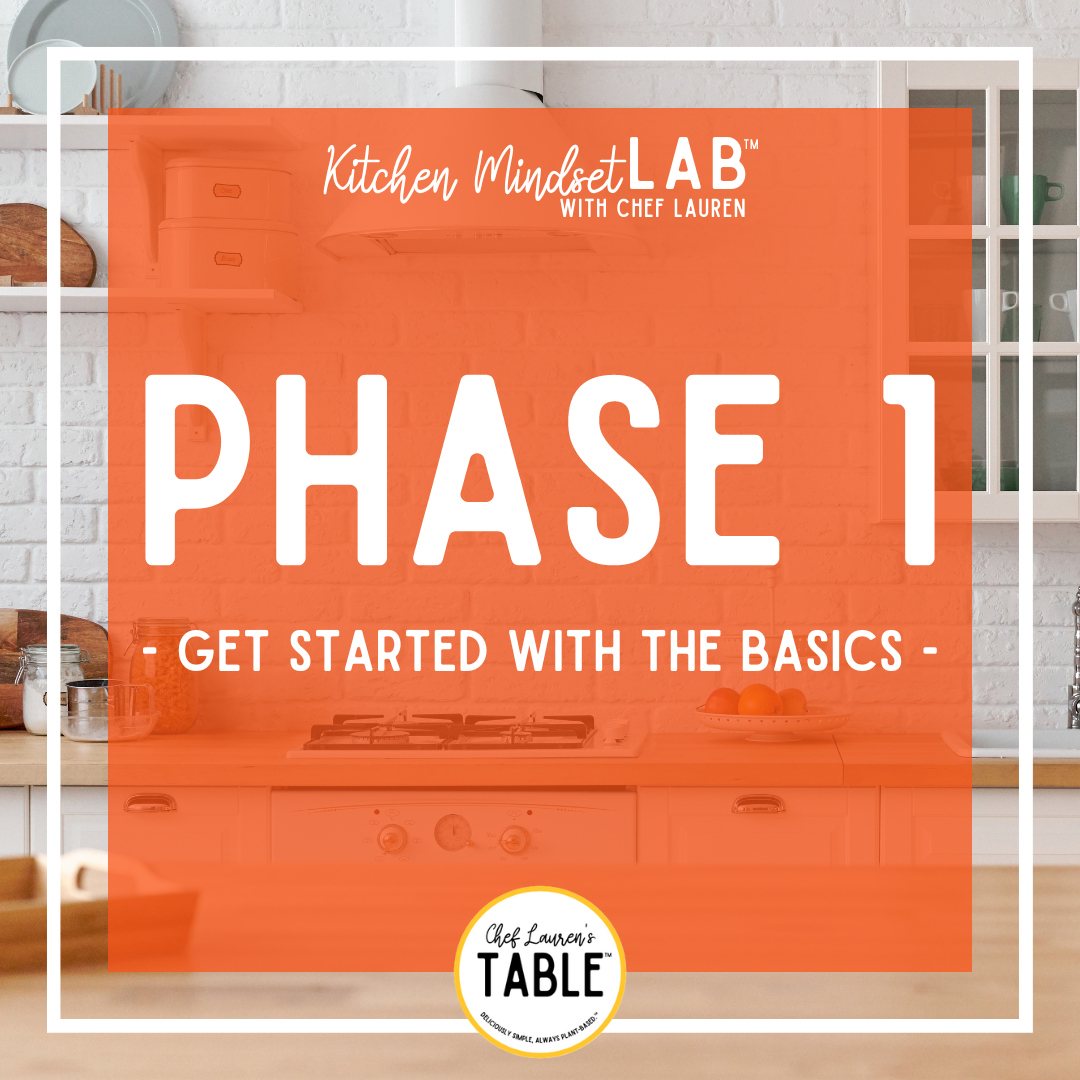 Phase One
Get Started with the Basics

• Food shopping for quality healthy ingredients
• Batch prepping to save time and money
• Systemize your pantry and cook with ease
Set yourself up for success by getting clear on why this healthy change is important to you in the first place. Only you know how far down the plant-based road you want to go. And it might not be all the way until the end, and that's okay. This is your life, and your journey, we're simply here to light the way.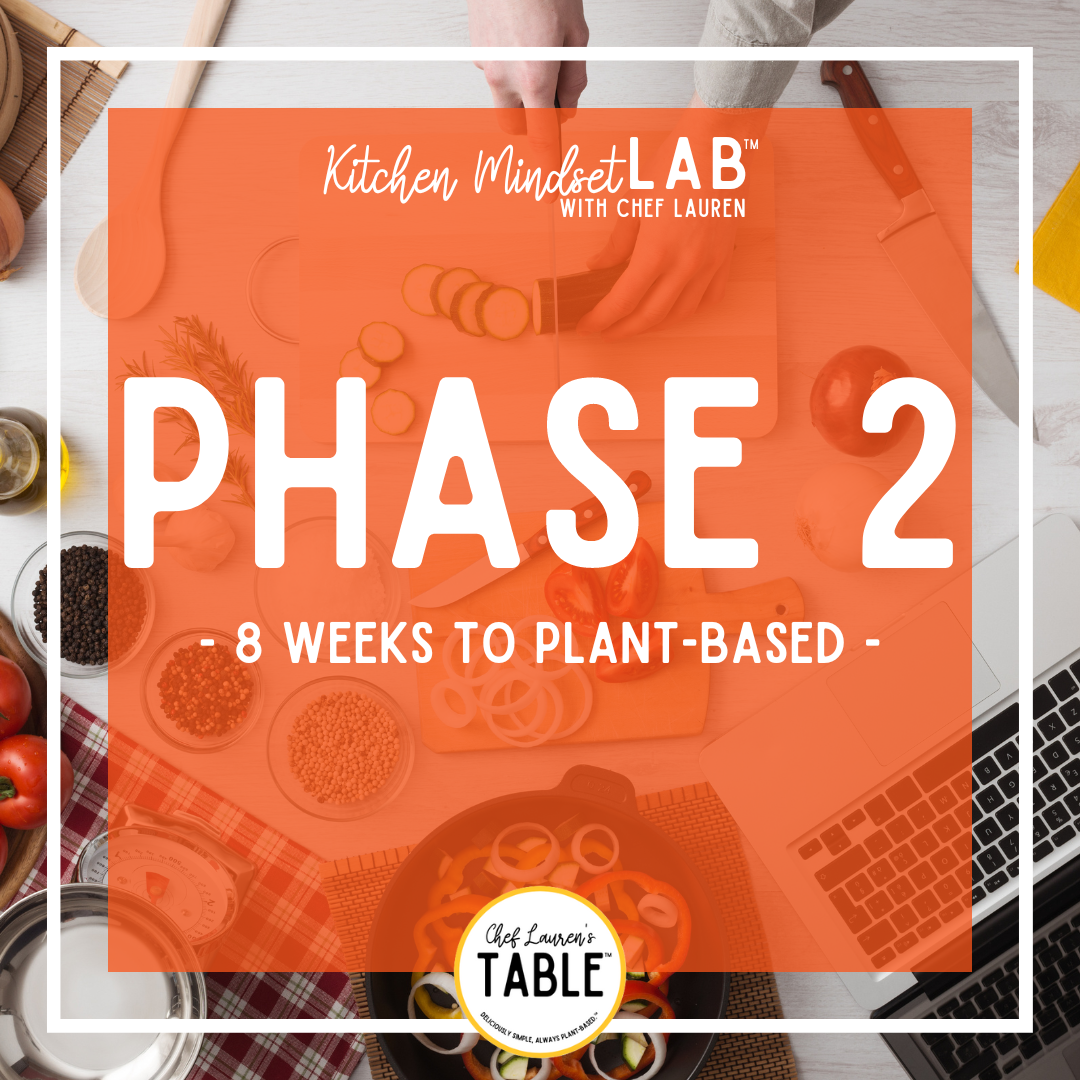 Phase Two
8 Weeks to Plant-Based

Our kitchen is overflowing with flavor, and we want to share it with you!
After getting yourself acclimated, it's time to start cooking. We've broken down the transition to plant-based to go at a comfortable nine week pace, but it can absolutely go slower if you need it to.
Each week, we'll meet virtually for cooking on Tuesday evening. And you'll have access to on-demand lessons so you can keep practicing.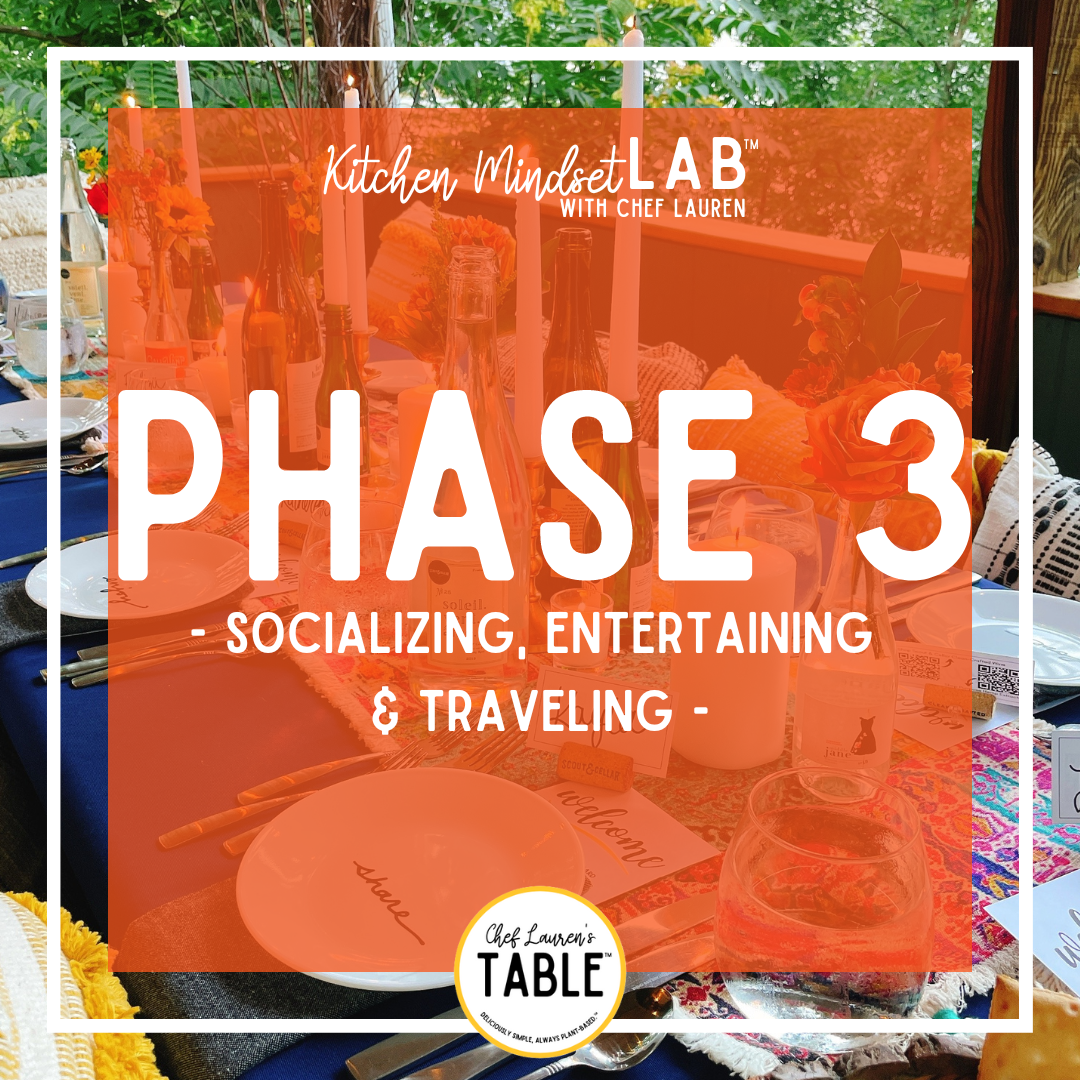 Phase Three
Socializing, Entertaining, & Traveling

So you've mastered healthy cooking, hurray! But now that means that you need to eat every single meal at home, right?!
WRONG! We believe in freedom like we believe in flavor, so that's why we'll teach you how to be an easy guest at parties, how to host like a champ, and even what to do when dining out. Learn how to stay balanced in your new lifestyle so you'll never get off track again.

A Different Approach to Healthy Change
At Chef Lauren's Table, we know that you want to be a healthier home cook. In order to do that, you need to over plan, go to culinary school, or spend a fortune on healthy convenience foods. The problem is you have a life to live, a job to go to, a family to raise, a house to maintain, and so many other things to do that learning how to cook and eat healthier feels impossible. This leaves you feeling stressed out and overwhelmed, so you don't even bother getting started. Because if you aren't going to commit to plant-based fully, it's not even worth doing, right?
We believe that even small healthy changes are a step in the right direction. And that with a little guidance, anyone can cook and share healthy meals that will give them more life to live to do all the things they love. We understand that habit changes can be hard, especially when they challenge us to be healthier, which is why we created the Kitchen Mindset Lab.
Here's how we transform your food habits:
Phase One - Prepare & Organize
Phase Two - Cook & Learn
Phase Three - Socialize, Host, & Travel
So sign up for our 8 Week Group Cooking Program today so you can start growing your cooking confidence. And in the meantime, take our quiz to find out how plant-based you currently are and assess your kitchen mindset.
Join us in the Kitchen Mindset Lab so you can stop beating yourself up about failing at making healthy diet and lifestyle changes and instead nurture your mindset, grow your cooking confidence, and enjoy the flavorful plant-based foods that your body and your life deserve.


Cue the Mindset Makeover
We've heard it all. And while we never judge our friends for having no interest in eating healthier, we just plain don't understand it. But we understand the emotion and psychology behind their resistance. Here are some of our favorite excuses, and our take on these mindset traps.
"This probably won't be worth it."
Imagine if you said that to your Dentist after they suggest brushing twice a day. A little daily maintenance goes a long way in promoting proactive health, and each time we put the fork in our mouths we actively choose to give our bodies fuel that heals and support us, or we don't. When we choose food-like substances that are harmful and toxic, our body still has to process them, when the only thing it wants to do is keep us in balance so we can thrive.
"It will definitely be more expensive."
Last time we checked, local and in season produce, beans and legumes, and even tofu, were at the very bottom of the list of goods that have gone up in price. Not only is a plant-based pantry a more inexpensive one, it's lighter on the planet too.

"I won't be able to eat any of my favorite foods."
Let us just say this - if this food wasn't downright delicious, we wouldn't eat it. Like a defiant toddler objecting to eating anything green. And we certainly wouldn't be sharing it at Chef Lauren's Table. In our kitchen, we're total food and flavor snobs, so trust us when we say that you might not miss your current favorite as much as you think. We never restrict, because we believe in free choice to eat what you'd like. We just know that we can take just about any family favorite and plant-ify it.
"I'll only get to eat salad, and I'll have to eat tofu."
If that was all we were eating, we'd be so miserable. We know that life is short, so we believe in eating and sharing food that brings joy and flavor to every mouth. We've been practicing long enough now that tofu and salad do actually bring us joy, but if you're not there yet, just be patient. It will only be a matter of time that your body starts to adjust to a cleaner diet. And then you might actually crave a salad...can you imagine that?
"My family will definitely not be supportive."
Depends on how you sell it. If you said something like, "It's important to me to eat healthier so I can be here and healthy for your future grandkids," your kids might be more receptive to such a lovely idea. Or something like "When we retire, I want to be able to travel like we've talked about - without any mobility restriction. And what I've learned about a plant-based lifestyle could be really supportive of that." What ever conversation you need to have with the people you share a home with, we're here to help make it a comfortably productive one.
We also encourage our students to focus on themselves first. It definitely helps to have a spouse/partner or child on board with you. Bonus points if you can hook them into the prepping and cooking with you. But in case they're not there just yet, we'll provide strategies and tricks so you don't accidentally become a short-order cook, because we know that you definitely do not have time for that!


Peek Inside the Kitchen Mindset Lab
Here's how we do things in the kitchen.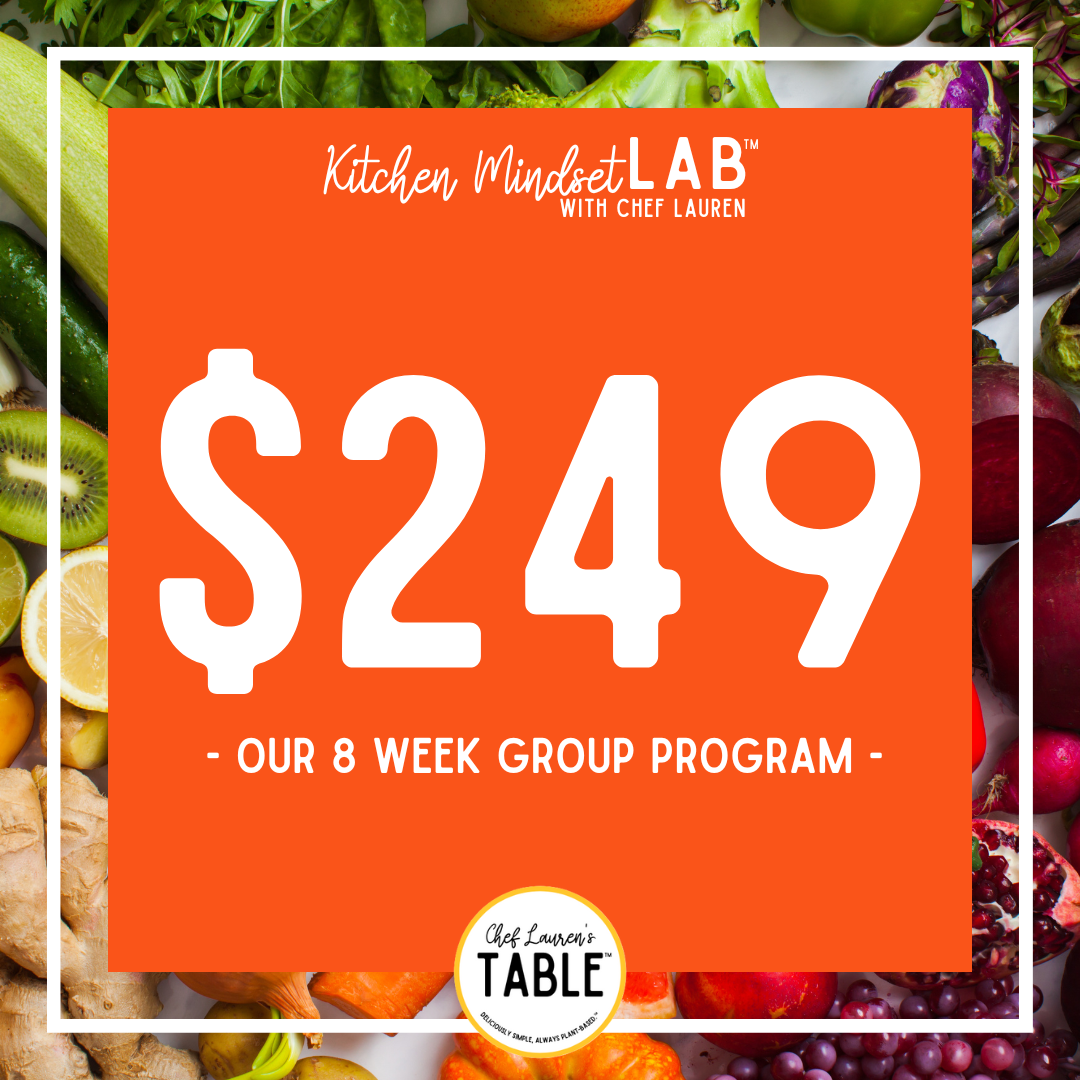 Our 8 Week Group Program
$249 for 9 Live Classes

Cook along with Chef Lauren from the comfort of your own home kitchen. Each week, we'll cook a recipe from the respective section we're focusing on. Plus you'll have access to all of the on-demand lessons to practice throughout the week.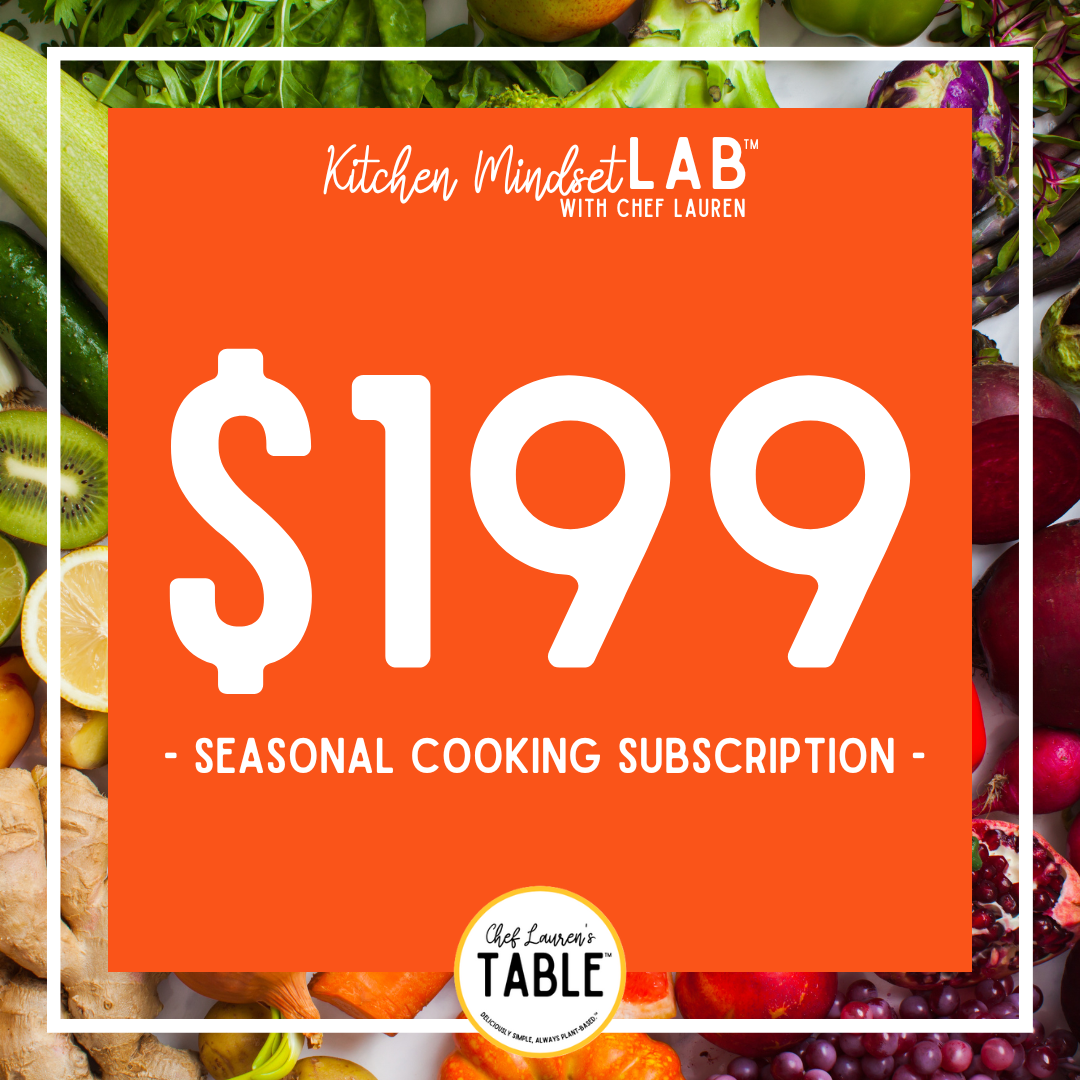 Seasonal Cooking Subscription
$199 for each Season of 8 Live Classes

Cook with us throughout the seasons, and refine your skills as your confidence grows. Learn how to apply the same method to any season for nourishing and delicious meals any time of year! Subscriptions renew every three months.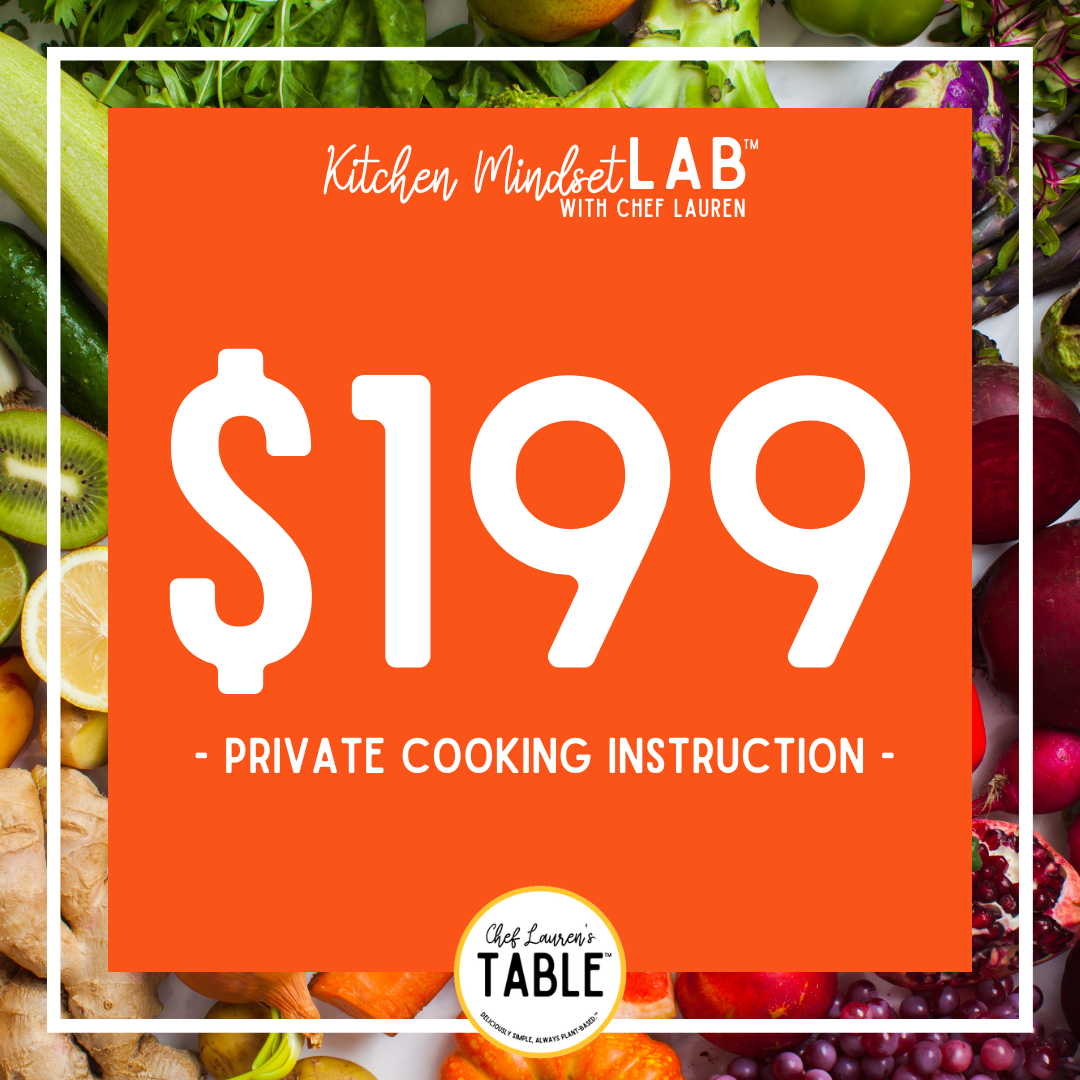 Private Cooking Instruction
$199 per Two Hour Virtual Lesson

Need a little more hand holding? Add a private lesson to your journey for a boost of confidence or customized solutions for you and your family. Buy 4 private lessons, get one free! Limited to two students per lesson.

Check your inbox to confirm your subscription